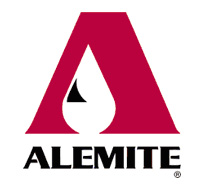 We are a distributor of Alemite fittings. We offer pumps and drum-related equipment, such as faucets, drum wrenches and drum carts.  Additionally, we have grease guns, single-point lubricators and industrial lubrication fittings.
We are a proud distributor of Alemite fittings, pumps, equipment lubricators and other related equipment to meet your fluid handling and dispensing requirements.
For example, Alemite fittings come in different sizes, including 1608, 1613, 1637. 1688 and 1911.
These durable products are designed for maximum safety and efficiency. Their innovative grease  guns offer optimal productivity in your shop.
Alemite's control valves and meters are accurate and reliable in the dispensing of fluids. Their zerk and grease fittings are designed for even the most advanced applications, including hydraulic machines.
We offer their lubrication products that are cost effective, provide constant lubrication points and have minimal staffing requirements.
Here are some of the industries that use these products:
Aerospace Manufacturers
Automotive Facilities
Industrial Manufacturers
Military Manufacturers
Mining Applications
Would you like to know more? Contact us today at 855-943-3337.